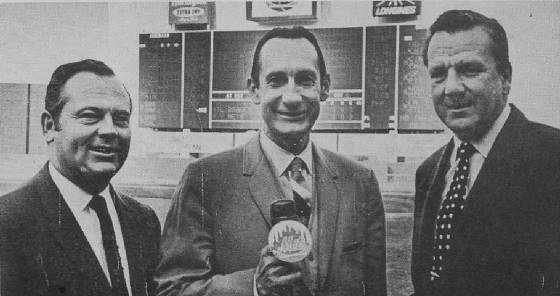 "Hello, everybody...this is Lindsey Nelson with Ralph Kiner and Bob Murphy...."

For the first 17 seasons of the NY Mets' history - 1962 to 1978 - these three gentlemen WERE the voice of the team. On radio and television, they brought us each pitch, each play. Rarely if ever has a baseball team been so identified with a trio of broadcasters, and rarely if ever has a baseball team been fortunate enough to be represented by such a talented trio.

For those of us who grew up loving the Mets in the 1960s and 70s, just the mention of Kiner-Nelson-Murphy brings back rich memories of transistor radios and ballgames watched on black-and-white TVs. Our youth is forever linked with their voices. They told us the stories of the lovable losers of the "Amazin' Mets" of Casey Stengel, the incredible rise of the "Miracle Mets" of Gil Hodges, and the ups and downs that followed.

Lindsey Nelson left the Mets after the 1978 season, but Bob Murphy and Ralph Kiner continued to do the play-by-play for many years to come. Millions of Mets fans will forever remember fondly the hours of pleasure these fellows provided. Thank you, Bob and Ralph and Lindsey!
Ralph Kiner interviews Tom Seaver and Jerry Koosman in the clubhouse after the 1969 World Series win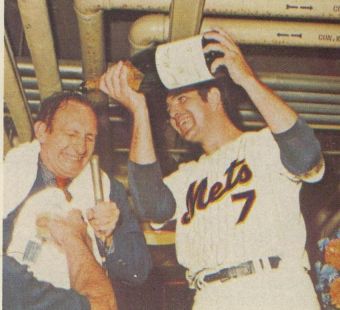 Lindsey Nelson gets a champagne shampoo from Ed Kranepool
A happy Bob Murphy interviews Mets executive M. Donald Grant in the champions' clubhouse, Oct. 1969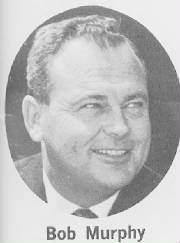 Listen to Bob Murphy call a homer
Bob Murphy broadcast Mets games for an astounding 42 seasons (1962-2003). His death at age 79 in 2004 saddened Mets fans everwhere. Bob always had a lilt of optimism in his voice that made listening to him a pleasure. According to Wikipedia:

'Murphy's broadcasts were known for his optimistic outlook. He would rarely be critical of players and would always strive to emphasize the positive. According to Gary Thorne, who was his partner in the Mets radio booth from 1985 to 1988, Murphy felt that, "the game was to be enjoyed and he sought out the joy in that day's game to bring to the fans."

Murphy, despite his long association with the Mets, never openly rooted for the team from the booth. Listeners knew that he was happier when the Mets won, as evidenced by his mention of a "recap" after a loss and a "happy recap" after a win, but he never referred to the Mets as "we" and, reflecting his love of the game, he would sound equally excited when a good play was made against the Mets as he would when the Mets made a similar play.'

In 1994, Bob Murphy was put into the Baseball Hall of Fame as a recipient of the prestigious Ford C. Frick Award. There is a display about Murphy in the Baseball Hall of Fame and Museum, as there is for former Mets partner Nelson, who had also won the award. In addition to this honor, Murphy was inducted into the New York Mets Hall of Fame in 1984.

After the 2003 season, Murphy retired to Florida. He died of lung cancer in August of 2004 in West Palm Beach. After his passing, the Mets honored Murphy's memory by wearing a patch on the left sleeve of their uniforms for the rest of the 2004 season.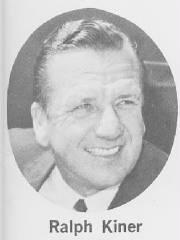 Hear Ralph Kiner call a home run
After a career as a slugger with the Pirates, Cubs and Indians, Ralph Kiner entered the broadcasting arena. His voice has been associated with the Mets longer than anyone else.

He perhaps became best known for his post-game interview show, Kiner's Korner. As an announcer, Kiner gained additional renown for his often unintentionally funny utterances. He was prone to mis-speaking the names of players; for instance, he called Dwight Gooden "Greg Goossen" and Darryl Strawberry "Darryl Throneberry", in each case referring back to Mets players of the 1960s. In addition, he came up with colorful phrases such as "Two-thirds of the earth is covered by water and the other third is covered by Greg Maddox" and "If Casey Stengel were alive today, he'd be spinning in his grave." He also said that Nolan Ryan's fastball had been clocked at 200 miles per hour (!) and noted that Hall of Fame ceremonies were scheduled for "July 31 and 32."

Despite a bout with Bell's palsy, which left him with slightly slurred speech, Kiner is still broadcasting, entering his 45th year of doing Mets broadcasts as of the start of the 2007 baseball season, though only as an occasional guest analyst on Mets' broadcasts on SportsNet New York (SNY).

In the above audio clip, Ralph does one of his many endearing boo-boos, calling Cubs outfield Cleo James "Cleon James", obviously confusing him with Mets outfield Cleon Jones.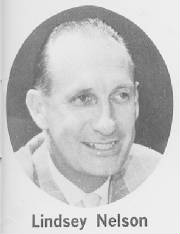 Hear Lindsey Nelson call a homer
Lindsey Nelson is best known to many sports fans as a football announcer, having called the Cotton Bowl for 25 seasons. But for Mets fans, he's one of their own.

In 1962, Nelson was hired by the Mets, and for the next 17 seasons did both radio and television with Ralph Kiner and Bob Murphy. His association with the Mets and their glory years of the late 1960s and early 1970s outlasted his tenure with the club. When Chicago White Sox pitcher and former Mets ace Tom Seaver went for his 300th victory in August 1985, against the host New York Yankees, Yankees TV flagship WPIX had Nelson call the final half-inning of Seaver's history-making win.

Television broadcasts featuring Nelson were notable for his "loud" psychedelic-colored or multi-colored plaid sports jackets, 335 of which he was reputed to have owned at one time. They often clashed with the set and his other surroundings and caused scintillation to the picture when his image was being broadcast, the television technology of the time being inadequate to represent them accurately.

In 1979, he moved on to the San Francisco Giants, for whom he worked for three seasons. He also worked with CBS Radio broadcasts of Major League Baseball in 1985.

Nelson's honors include induction into the National Sportscasters and Sportswriters Hall of Fame in Salisbury, North Carolina in 1979; induction into the New York Mets Hall of Fame in 1984; induction into the American Sportscasters Association Hall of Fame in 1986; the Tuss McLaughry Service Award for sports broadcasting in 1988; the Ford C. Frick Award from the Baseball Hall of Fame in 1988; the Pete Rozelle Radio-Television Award from the Pro Football Hall of Fame in 1990; and an Emmy Award for Life Achievement in 1991.

After his retirement from active broadcasting he moved to Knoxville, Tennessee to an apartment across the Tennessee River from the University of Tennessee campus from which he had a view of Neyland Stadium, the Vols' home field, and wrote an autobiographical memoir.

Nelson died at age 76 on June 10, 1995, in Atlanta, Georgia, after a long battle with Parkinson's disease.
A note on the audio clips featured on this page ---

There are three Mets games which I recorded off the radio: June 22 and 23, 1970, and June 26, 1976. I transferred the tape to my PC using the software program Audacity.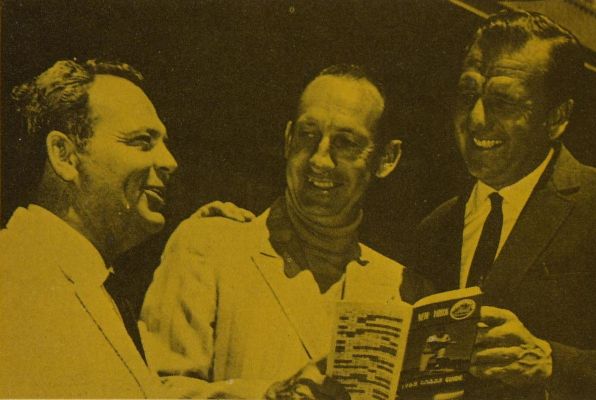 Thanks for the memories, Bob, Ralph and Lindsey!